Get Ahead in the Impact Revolution
Join us as the Impact Future Project (IFP) SDG aligned community Renewable Energy & CleanTech will unveil the top 10 Impact Investment ideas in the sector. The top 10 Impact Investment ideas have been researched and discussed by notable impact leaders with experience and expertise.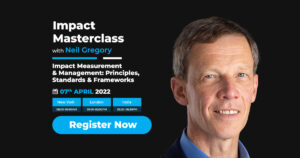 Neil Gregory is Chief Thought Leadership Officer of the International Finance Corporation, the private investment arm of the World Bank Group. He has held a range of senior strategy and management roles at IFC, including research, business planning, investment and advisory functions.