Education, Skills and EdTech
Join us on 28 October 2021 as we unveil 10 Impact Ideas in the Education, Skills & EdTech Sector which will dictate the future trends of the industry.
What to expect:
Understand the future trends in the EdTech sector from industry leaders
Opportunities & threats in the sector from industry perspective
Top 10 investment ideas in the sector and innovative ideas to create a EdTech startup
Connect with leaders and innovators in the industry – authors, researchers, entrepreneurs, funders, and organizational founders.
Be exposed to all areas of the Skills & EdTech sector and see the full scope of what is possible in the future
Leave feeling refreshed and re-energized. The virtual event will leave you with the momentum and inspiration to take on your next goal.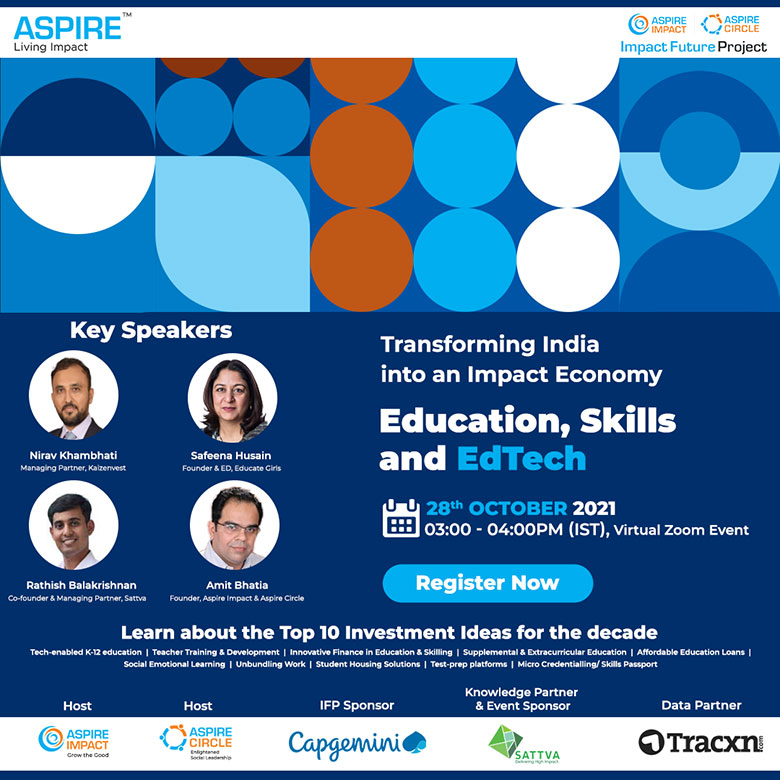 Fill the form below to Register :
Education enables upward socioeconomic mobility and is a key to escaping poverty. Over the past decade, major progress was made towards increasing access to education and school enrollment rates at all levels, particularly for girls.
However the following facts show the road to achieving literacy and employability in India thereby achieving the UNSDGs is a long road:
As of May 2021, nearly 18% of India's urban population is jobless
There are more than 8.3 million child labourers in India
Nationally, only 1.8% of the population reported receiving formal vocational/technical training in 2017-18.
Dropout rate at secondary school level in India is more than 17%
There are approximately 8.5 crore children between age of 5-6 who don't go to school due to financial crisis
According to the National Sample Survey education report, just 20 percent Indians above the age of 5 could use the internet, and only 24 percent families had the facility
33% of India's skilled youth is jobless
Impact Future Project (IFP) is World's first Impact-Dedicated, thought leadership platform with ~200 imminent leaders aligned into 10 SDG aligned sectoral groups that have come together to discuss ideas to create an Impact Economy, an economy where entrepreneurs and organisations generate their profits in a manner that contributes to social and environmental good. 
Join us to unveil the Top 10 Impact Investment Ideas in the Education, Skills & EdTech sector, researched by impact leaders over a year in the Impact Future Project (IFP)
We welcome you to interact with our IFP leaders to invest for a sustainable future and get ahead in the Indian Impact Revolution. See you at the event!