WASH (Water, Sanitation, Hygiene) & Waste Management
Top 10 Impact Investment Ideas
Join us on 18 November 2021 at 3 – 4 PM as we unveil 10 Impact Investment Ideas in the WASH (Water, Sanitation, Hygiene) & Waste Management sector
What to expect:
Listen to industry impact leaders and their expertise from the WASH (Water, Sanitation, Hygiene) & Waste Management Impact community
Future trends & opportunities
Top 10 For-Profit business ideas that can attract impact Investments
How India can achieve Goal-6 of UNSDGs
Innovative ideas to create a profitable startup and spread impact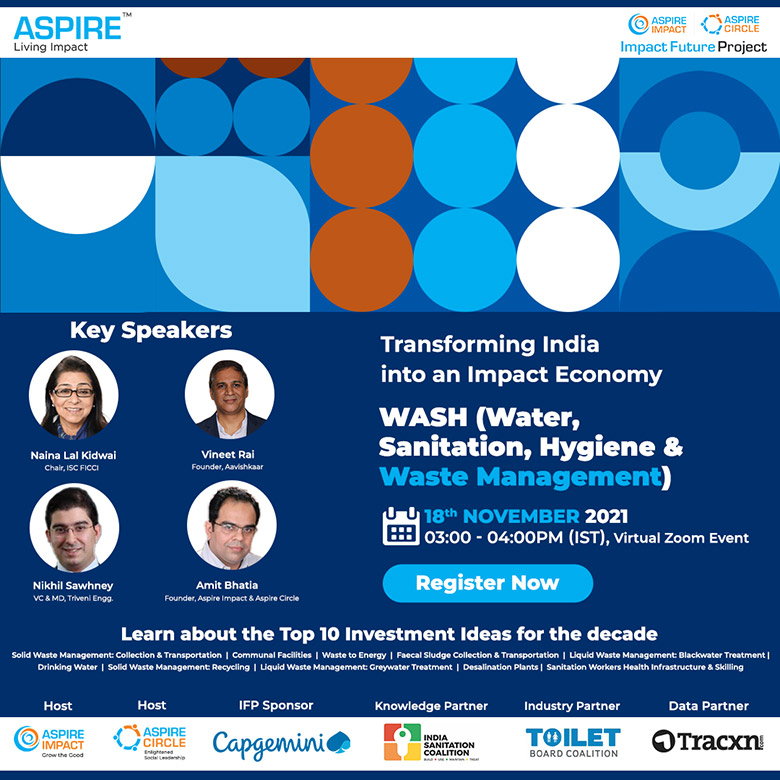 Fill the form below to Register :
Immense progress has been made in increasing access to clean drinking water and sanitation in India but more needs to be done.
Joint monitoring programme (JMP) on water, sanitation and hygiene by the World Health Organization and UNICEF released July 1, 2021 stated that at least 15 percent of the total population in India defecates in the open.
India generates 62 million tonnes of waste every year, of which less than 60% is collected and around 15% processed.
77% of waste is disposed of in open dumps, 18% is composted and just 5% is recycled
19% of world's people without access to clean water live in India
More than 50% of the population has no access to safe drinking water and about 200,000 people die every year for lack of access to safe water.
It is estimated that waterborne diseases have an economic burden of approximately USD 600 million a year in India.
The Impact leaders from the WASH (Water, Sanitation, Hygiene) & Waste Management community with their experience in the sector have come together to solve these problems for India by unveiling the top 10 Impact Investment ideas that will dictate the decade and help India achieve Goal-6 of the UNSDGs. The UN Sustainable Development Solutions Network's SDG Index Report 2019 places India at a rank of 115 out of 162 countries. 
SDG 6—ensuring inclusive access to clean water and sanitation facilities is of paramount importance as it is  closely associated with a) health, in terms of water-borne infections and hygiene-related diseases; b) food security, for access to irrigation facilities; and c) livelihoods for millions of people across the globe, especially in the developing world. 
COVID-19 has demonstrated the critical importance of sanitation, hygiene and adequate access to clean water for preventing and containing diseases. The ideas to be unveiled hold the key to achieve high standards in these areas. 
The envisaged long-term impact is the integration of these impact ideas into  state investment agendas and impact policies for SDGs, generation of employment  opportunities and galvanization of the impact start-up ecosystem.
Join us at this exciting session and interact with our IFP leaders to invest for a sustainable future and get ahead in the Indian Impact Revolution. See you at the event!
How to Join us:
The Log-In Link for the webinar will be emailed to you after registration. You are further requested to login a few minutes prior to the scheduled start of the event.
Webinar Details:
Date: 18 November 2021
Time: 03:00 pm to 04:00 pm IST
Log-In Link: This will be emailed to you after registration.