Impact Masterclass with Prof Dwight N. Hopkins
ESG & Impact Ratings: Myth vs Reality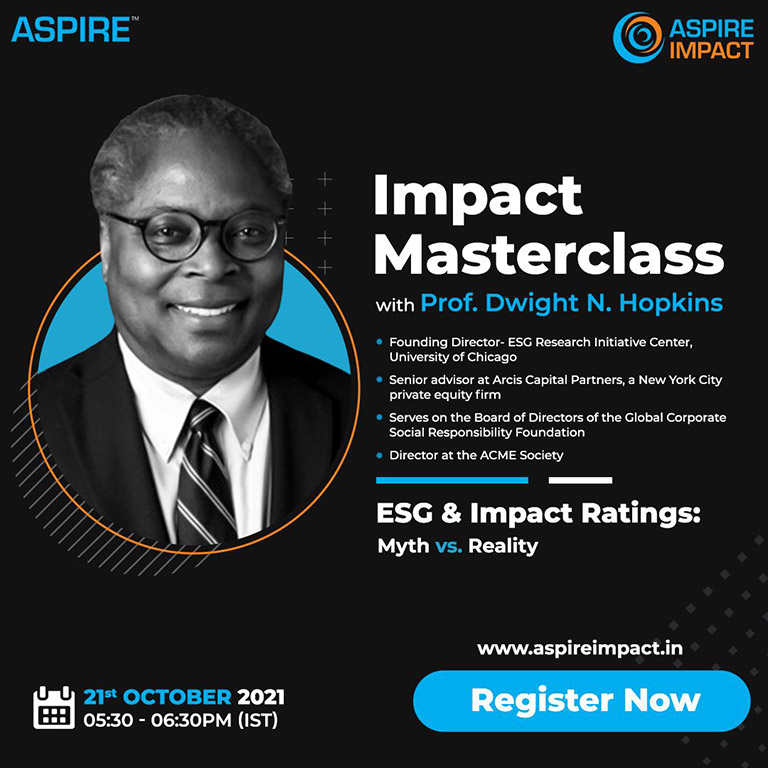 Fill the form below to Register :
This masterclass is a unique opportunity to learn from world's leading authority about the state of play for ESG, Sustainability & Impact; about Integrated Reporting & Impact Accounting; about the imminent Impact Economy.
Professor Dwight N. Hopkins has spent over 30 years working in the education industry. He is currently the Alexander Campbell Professor at the University of Chicago. Prior to that, he taught for 6 years at a university in Silicon Valley. Professor Hopkins is a senior advisor at Arcis Capital Partners, a New York City private equity firm targeting digital technology, health technology, and clean technology. He serves on the Board of Directors of the Global Corporate Social Responsibility Foundation and as a Director at the ACME Society.
Professor Hopkins founded and managed a 14-country network focused on youth/student education and women's advocacy. The countries included Hawaii, Fiji, Japan, Australia, India, England, South Africa, Botswana, Zimbabwe, Ghana, Cuba, Jamaica, Brazil, and the USA.
Hopkins has been to 40 countries and has taught in China and South Korea. He has held and attended meetings in Africa, Asia, the Caribbean, Europe, the Middle East, North America (including Canada), the Pacific Islands, and South America.
How to Join us:
The Log-In Link for the webinar will be emailed to you after registration. You are further requested to login a few minutes prior to the scheduled start of the event.
Webinar Details:
Date: 21 October 2021
Time: 05:30 pm to 06:30 pm IST
Log-In Link: This will be emailed to you after registration.