Impact Masterclass with Neil Gregory
Impact Measurement & Management: Principles, Standards & Frameworks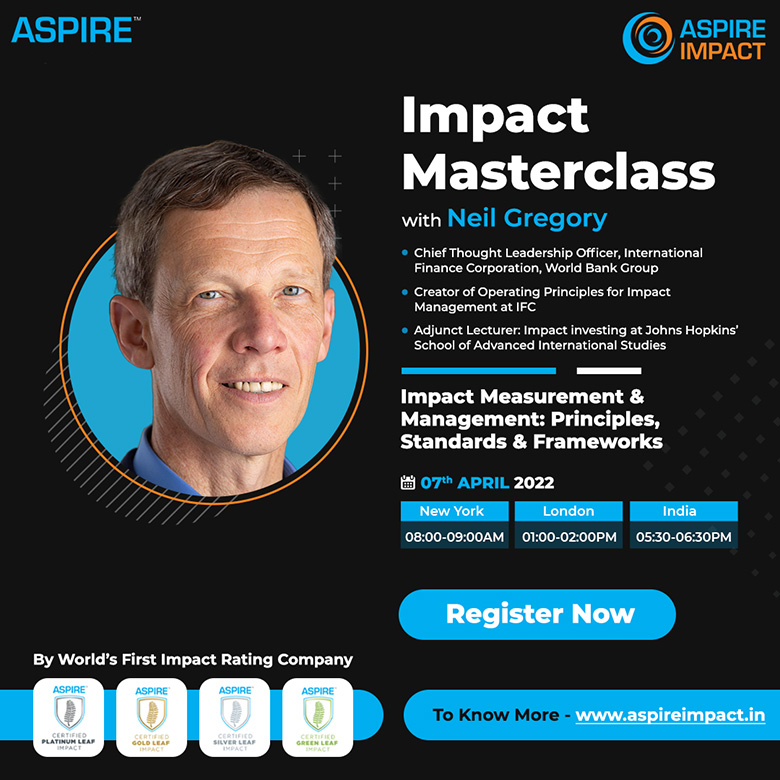 Fill the form below to Register :
This masterclass is a unique opportunity to learn from world's leading authority about the state of play for ESG, Sustainability & Impact; about Integrated Reporting & Impact Accounting; about the imminent Impact Economy.
Neil Gregory is Chief Thought Leadership Officer of the International Finance Corporation, the private investment arm of the World Bank Group. He has held a range of senior strategy and management roles at IFC, including research, business planning, investment and advisory functions. 
He led the creation of the Operating Principles for Impact Management. He has extensive work experience in South Asia, China, Africa and the Caribbean. 
A British national, Neil has an MA in Economics from Cambridge, an MSc in Economics of Development from Oxford and an MBA in International Business from Georgetown. He teaches impact investing at Johns Hopkins' School of Advanced International Studies.
How to Join us:
The Log-In Link for the webinar will be emailed to you after registration. You are further requested to login a few minutes prior to the scheduled start of the event.
Webinar Details:
Date: 7 April 2022
Time: 05:30 – 06:30 pm IST (01:00 – 02:00 pm GMT)
Log-In Link: This will be emailed to you after registration.