Unveiling Top 100 Investment Ideas for the Decade
The Impact Future Project Research Unveil Event is scheduled to run from 5 October 2021 to 20 January with a series of events every month. The theme of Impact Future Project (2019-20) is "Transforming India into an Impact Economy" and includes a lineup of imminent speakers and eye-opening research work all having to do with the 17 SDGs.
Join ~200 business,
investment & non-profit
leaders in the ImpactFuture Project
Engaged in India's biggest co-authoring collaboration for launching 8 Research Publications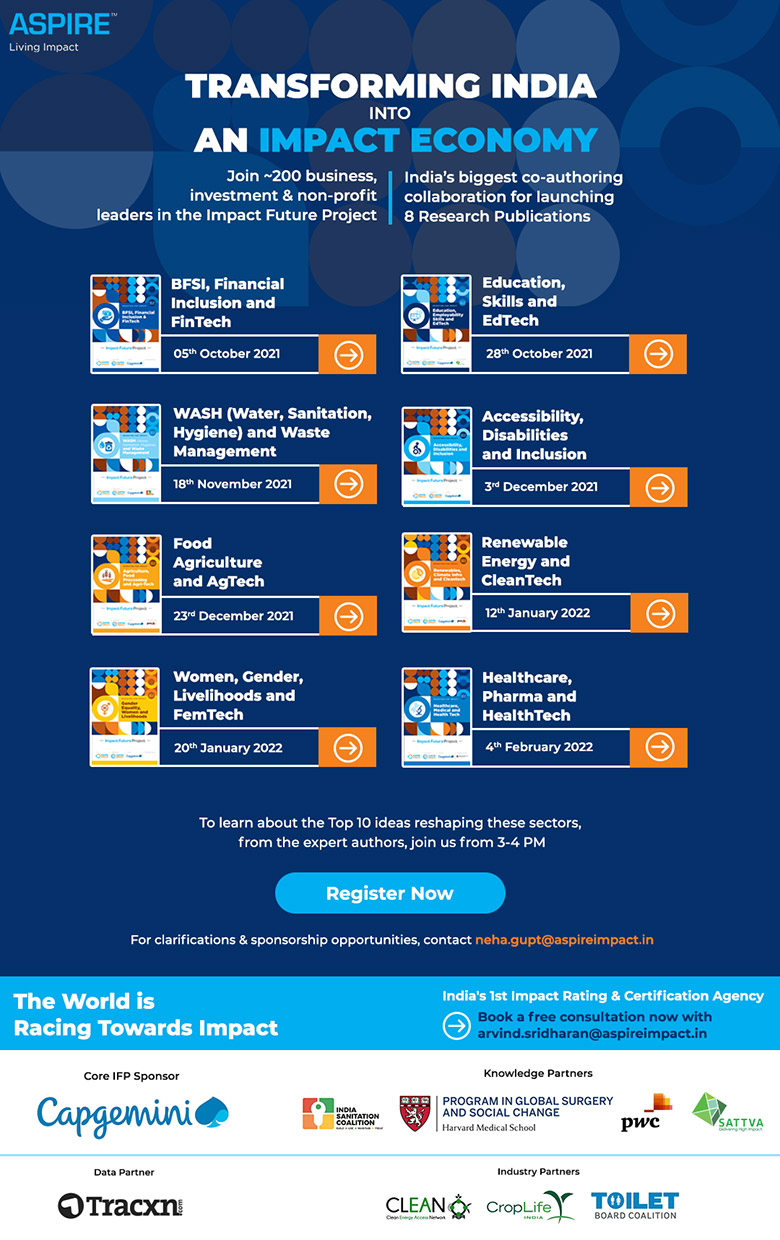 Fill the form below to Register :
Impact Future Project (IFP) is World's first Impact-Dedicated, thought leadership platform with ~200 imminent leaders aligned into 10 SDG aligned sectoral groups that have come together to discuss ideas which can transform India into an impact economy.
IFP seeks to address the environmental and social challenges with structured ESG (Responsible), Sustainable & Impact Investment ideas to heal and restore our planet and its people. We welcome you to interact with our IFP leaders to invest for a sustainable future and get ahead in the Indian Impact Revolution.
The ten sectoral Impact Communities are:
Accessibility, Disabilities & Inclusion
Education, Skills & Edtech
Healthcare, Healthtech & Medtech
Renewables, Climate Infra & Cleantech
Agriculture, Food Processing & Agritech
WASH (Water, Sanitation, Hygiene) & Waste Management
Women, Gender, Livelihoods & FemTech
Affordable Housing and Sustainable Urbanization
Sustainable Manufacturing, Infra and Supply Chains